OUR YARNS
MODESOCK a delicious blend of Superwash Merino, Bamboo & Nylon to create a strong fabric with magnificent drape and great stitch definition!
ModeSock
60% Superwash Merino, 30% Bamboo, 10% Nylon; 50 gr/ 192 yds; 27–32 sts over 4"/10cm in St st
---
MODEWERK, a workhorse of a yarn in five weights (lace, fingering, dk, worsted and bulky), this spectacular tight-twisted superwash merino is soft and beautiful with amazing color depth!
ModeWerk Lace
100% Superwash Merino; 100 gr/ 936 yds; 36–44 sts over 4"/10cm in St st
---
MODELUXE, available DK and in a sock/fingering weight, a Merino Wool / Silk blend which is a dream to knit with and even more delicious to wear!
ModeLuxe DK
50% Superwash Merino, 50% Silk; 100 gr/ 232 yds; 21–24 st over 4"/10cm in St st
ModeLuxe Sock
50% Silk, 50% Superwash Merino, 100 gr/ 440 yds; 27–32 sts over 4"/10cm in St st
---
MODEFLAX, 100% Belgian Linen in two delicious weights: Lace & Sport. Machine washable, it wears like steel, and shines  like silk! Note: because of the properties of linen, certain colorways are not available in this yarn. These colors are marked with a * in the order form.
ModeFlax Lace

100% Wet Spun Linen; 100 gr/ 574 yds; 33–40 sts over 4"/10cm in St st
ModeFlax Sport

100% Wet Spun Linen; 100 gr/ 286 yds; 23–26 sts over 4"/10cm in St st
---
WE WILL DYE UP any base in any of our colors, especially for you!
NOTE: The colors are richest and deepest in the wool & wool/silk blends. Our ModeFlax is lovely, but doesn't achieve the same depth of color as our ModeWerk, ModeLuxe & ModeSock.The first time you wash a garment in any of our yarns, please wash in cold and air dry. 
---
Our Mini Skein Sets
A Few Of Our Current Mini Skein Sets

NO SPOILERS is a new concept in colorways – inspired by TV & movies we love, we create limited edition color stories which catch the zeitgeist of popular culture – in YARN!
---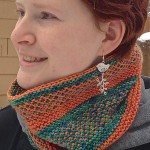 Pattern support is important to us, and we're working hard to create beautiful projects for you to knit and crochet up with our yarns!
In addition to our kits, check out our library of patterns (many FREE!) and indulge your creative spirit!