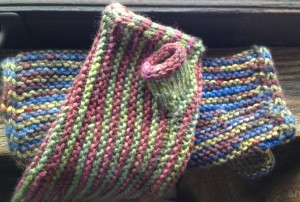 If you get my newsletter, you received a link for the Archer Mitts last week.
They're fun mitts, and — unusually for a free pattern — this involves techniques that are a bit beyond basic.
Provisional cast on? ICord Bind Off? Short Rows? Grafting? Creating a Thumb Gusset?
These are all techniques that you can try out with this simple pattern. Note that I said SIMPLE, which is not the same thing as EASY!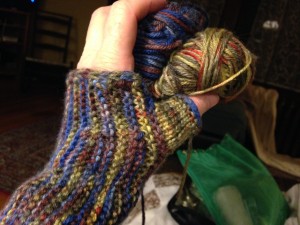 I've fallen in love with mitts; they're not just fun to knit, they're warm and allow full movement for your fingers. These are worked up in ModeLuxe, but to be honest you can use any worsted weight yarn (although ModeLuxe IS killer soft and delicious to knit up…)
I've been quiet because I've been dyeing up HUGE amounts of yarn, it's selling like crazy, and I have more yarn waiting for me at home to dye up when I get back.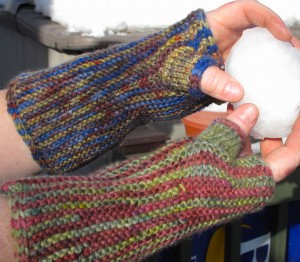 Where am I? I'm in Cleveland, preparing to tape a few segments of Knitting Daily TV tomorrow, and looking forward to seeing old friends!
I'm excited, but this evening is devoted to sitting still so my nail polish can dry, and figuring new ways to suck in my chins.
And now, MORE pictures of the lovely Archer Mitts (I can see Daryl wearing these during one of these Georgia snowstorms, right?)