Molly's striped scarf is lovely, and makes a statement, but it's just not practical for solving crimes!
Those long tails dragging in the forensic materials, getting stuck in drawers & doors, it could drive a pathologist crazy.
Here's an idea; how about the same beautiful stripes, but worked as an easy-to-wear cowl that doubles as a hood on those chilly London evenings?
"Because the one person he thought didn't matter at all to me ended up mattering most of all."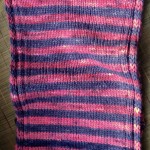 Each kit comes with two 50g skeins of either ModeLuxe DK or ModeWerk DK (choose your color combinations here) and the pattern for this delightful piece!
"I hope you'll be very happy [with your] Molly Hooper, you deserve it."
Casting On & Binding Off
If you prefer not to work a provisional cast on and 3-needle bind off, an alternative is to cast on using any method and bind off using a traditional BO, then sew the edges together with a mattress stitch (this may seem easier, but the join will not be as nice as joining live sts with a 3-needle bind off.)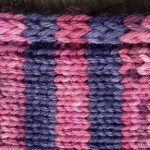 "Annie's Slip Stitch Edging"
The technique used in this pattern is a beautiful way to self-finish an edge. Once you learn it, you will use it all the time! It should be worked relatively loosely so it doesn't draw up the edge. It's important to remember when working this edging that every time a stitch is slipped, the yarn should be held TOWARD the knitter (whether you're working on the RS or the WS of the work).
002 Porridge & Honey
If Scotsmen were stubborn about anything — and, in fact, they tended to be stubborn about quite number of things, truth be known — it was the virtues of oatmeal 'parritch' for breakfast.
Through eons of living in a land so poor there was little to eat but oats, they had as usual converted necessity into a virtue, and insisted that they liked the stuff.

— Claire, Dragonfly In Amber