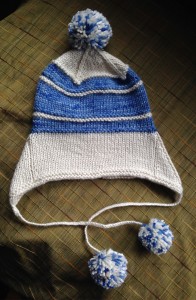 It's family bonding time at 221B Baker Street, the boys are sharing a moment. A hat is discovered, which (of course) triggers a game of Deductions.
The most important deduction by far is this simple observation, stated by Sherlock:
"Any body who wears a hat as stupid as this isn't
in the habit of hanging around other people, is he?"
Well, it's not a stupid hat. It's a lovely hat.
And you are JUST the person to knit it up, wear it, and prove Sherlock wrong (for once!)
The kit is available in either ModeLuxe (Merino/Silk blend) or ModeWerk DK or ModeWerk Worsted (Superwash Merino) in all of our beautiful ModeKnit Yarn Colors.
002 Porridge & Honey
If Scotsmen were stubborn about anything — and, in fact, they tended to be stubborn about quite number of things, truth be known — it was the virtues of oatmeal 'parritch' for breakfast.
Through eons of living in a land so poor there was little to eat but oats, they had as usual converted necessity into a virtue, and insisted that they liked the stuff.

— Claire, Dragonfly In Amber