PODCAST
We've eased into presenting a new podcast on iTunes.  I say "eased" because I'm the editor, and I'm not always as quick as I'd like to be!  So instead of uploading a regular weekly (or even bi-monthly) pod cast, we've been uploading them as they get finished editing.
I'm using Audacity, a free app that is great! I wish, though, that I knew more about audio engineering and making the sound of the final cast better.  Each one DOES get better, which I guess is a mercy!
Here's a link to all of our podcasts, so you can see who we've already interviewed – sometimes Kathleen and I chat with someone, or sometimes it's just me, but we hope the listener finds them interesting and nice to listen to while knitting (or crocheting, or biking, etc!)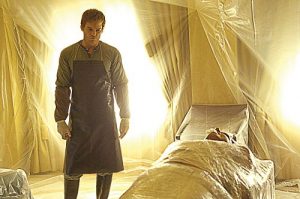 DYE ROOM
I'm becoming quite skilled at dyeing yarn in a teeny-tiny space, only using as much room as absolutely necessary and doing everything over washable rugs and with plastic draped around the walls.
My friend Deb likened it to Dexter's "Kill Room", which is more truth than poetry when I'm dying those bright reds.
With our home on the market, I'm DEFINITELY more careful than I was when it didn't matter how the room look when I finished! I'm also really glad that when I painted downstairs, I used deep, saturated colors. If I DO spill, and wipe it up, it's not as much of a tragedy as if the walls were white!
One of the goals of our move is to find a home with a really great dye space, not just the family basement.  How lucky we are remains to be seen, but setting the goals is the first step toward achieving them! (that sounds a bit too 'motivational speaker' for me…)
I just finished dyeing up a large order for Bijou Basin ranch, before that I was rushing to fill orders that had been placed while Kathleen and I were on the road. We're getting more and more wholesale accounts, which is amazing and great, and which also means more dyeing (which is also great!)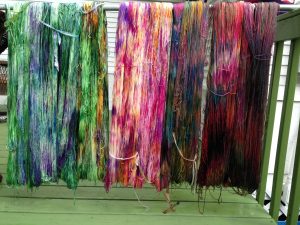 TRAVEL
Mostly I'm trying to get a lot of yarn ready for our trip to Stitches Midwest in early Aug in Schaumberg, IL. We're excited to give it a second go, and see how it all pans out this year. It's DEFINITELY the easiest show to load into and out of (we can pull right into the show area!)
After that is finished, we have a trip to the Michigan Fiber Festival in late Aug. I have taught there and I LOVE this festival, I'm thrilled to be teaching there again! It's such a lovely event, the atmosphere is amazing and it's in the sweet little town of Allegan, MI. Kathleen's never been to Michigan, so it's a great introduction to the state for her!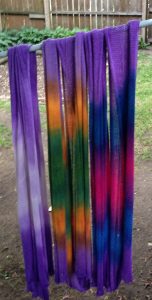 We'll be dropping Andy off at school (Earlham College, oddly enough Michael C. Hall — Dexter — is an alum…) on the way (she's going back early to work Freshman Orientation) so to kill a few days before the MFF Kathleen and I are doing some cabin-camping on Lake Michigan – I'm really looking forward to that! it's pretty bare bones, but I'll be certain to shower before heading to Allegan for my first knitting class of the festival!
SAY "HI!"
If you're in Illinois, Iowa, Wisconsin, Indiana, Ohio or Michigan, this has been your Summer to visit with ModeKnit Yarn!  We hope to see many of you at Stitches Midwest and/or the Michigan Fiber Festival!  Getting a chance to visit with our customers is – in all honesty – the highlight of our trips!
C'mon out and say, "Hi!" and get a piece of tea candy!